Crystals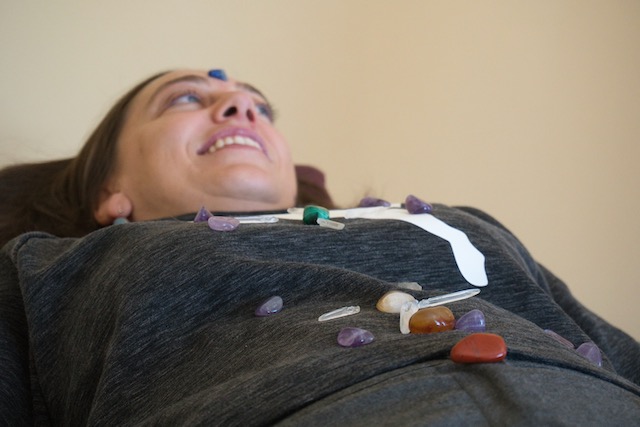 Magical helpers, also called the Stone People, they have the capacity to tune in and go in resonance with you, with your subtle energies that you are sometimes unable to perceive. They help us get into our bodies and take us to places within ourselves where we have sometimes never gone. They can hold us where we are, open us to something new, bring us deep within our stuff, shift energy and gain awareness. A crystal session is a wonderful way to work on yourself, they know exactly what you need.
Testimonials
Tanny has actually changed my life for the better; although I had no idea how anyone could help me – since my problems were and still are of the " medical " type – I had given up on doctors, assuming that my condition would not improve. Working with her my life has improved as I worry less, I have taken a little more control of my life and my self-esteem has increased. I would show up at every session feeling a little down, but I always went out with a high energy and to this day, even if I don't understand 'how', I finally know a feeling of 'well-being.
Tanny listens, she encourages you to get to the root of a problem you didn't know existed. It explains how the mind affects the body, and more, and even though I still don't understand how this "healing" happens … I have to believe the facts. Now I miss not having her near, for me and for other people close to me that I know, it would benefit from her and her apparently magical but also clearly scientific gifts.
You won't know that Tanny could change your life for the better until you spend some time with her and I'm sure she will.
Hi, my name is Stefano and I am 50 years old, you will think that at this age one has already acquired enough experience to have ready answers to life events, wrong!
Many doubts and knots must be resolved, I am grateful for having had for the curiosity and the desire to improve, and having crossed my path with that of TANNY, "which I consider as a sister".
Thanks TANNY for your teachings on EFT, Matrix Reimprinting and Meta Medicine techniques and for the sense of harmony and trust that you emanate, thanks to you, I have discovered a new way of seeing things and receiving answers.
I am so happy to have found Gaetana, she is a wonderful practitioner, attentive and with a lot of experience and ability. She has shown such care and integrity in the journey of a member of my family, helping him out of a very dark place, into a life full of potential. Gaetana's work with my relative created a big change in his perceptions. I am amazed at how quickly things have started to improve.